The mobile app market is growing faster than it ever has before. Consumer spending on mobile apps in the first quarter of 2021 has broken all previous records. In a new report released by App Annie, Q1 2021 consumer in-app spending across both iOS and Google Play reached $32 billion. That's an increase of 40% year-over-year from the same period last year.
Worldwide App Consumer Spend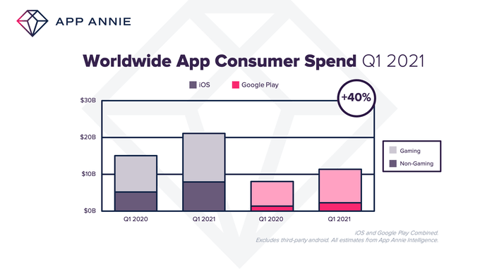 A large part of this record-breaking spending comes as a direct result of the pandemic. Forced to adapt to stay-at-home orders in 2020, consumers increased both their app downloads and spending as they found new digital ways to work, shop, socialize, game, and continue their education. Even as pandemic-related restrictions slowly lift, app downloads and spend continue to grow, with games making up the bulk of the activity.
Gamers are downloading apps at a record pace, accounting for about a billion titles a week, up 15% year-over-year from 2020. They're also making up the majority of the spend, responsible for $22 billion. App Annie predicts this growth will continue, estimating gaming will reach $120 billion in consumer spending this year.
With more people relying on mobile apps these days, it's more important than ever to have a strong mobile apps component in your overall brand protection strategy. Ensuring the safety of your consumers and the authenticity of their experience with your brand is critical.
For more information on how to plan an effective mobile app enforcement program to compliment your overall mobile strategy, we've published an informative guide that you can download here.