US e-commerce growth, originally projected to reach over $908 billion in 2021, is already exceeding estimates and is now projected to reach $933 billion according to a just-released report from eMarketer.
Retail Ecommerce Sales in the US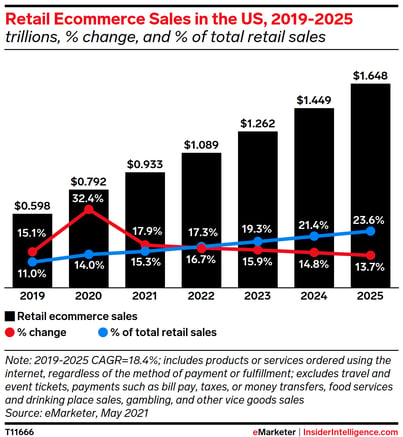 The initial surge in e-commerce growth in 2020, driven in part by the pandemic, reached a previously unprecedented $799.18 billion in sales. Estimates made by experts earlier this year predicted growth would slow in 2021 as restrictions that helped drive the surge were lifted, allowing for a return to in-person shopping. However, consumers have defied earlier predictions, continuing to utilize e-commerce in record numbers. At this current growth trajectory, e-commerce sales will surpass $1 trillion in 2022 and be worth over 20% of total retail sales by 2024.
For brands with an e-commerce presence, this continued growth is good news. Unfortunately, it also means these same brands must be increasingly vigilant for signs of abuse by bad actors looking to cash in on consumers' preference for online shopping. Tech-savvy criminals are setting up sophisticated systemic brand abuse networks, hiding their nefarious activities behind trusted logos and names. Modern brand protection solutions help identify these networks, allowing you to focus on the most egregious offenders.
To learn how Appdetex can help you meet today's brand protection challenges, click here to request a demo.