Mobile usage has grown exponentially as the world continues to grapple with COVID-19. App usage has gone from convenience to necessity as consumers turn to their phones and mobile apps to stay connected, entertained, and informed as well as to shop, learn, and manage their finances.
AppAnnie recently released a report detailing just how much of an influence COVID has had in accelerating mobile growth. Between app downloads, time spent in those apps, and amounts of money being spent in the app store, mobile apps are breaking previous records.
App Annie reports that consumers downloaded over 33 billion new apps in Q3 of 2020, an increase of over 3.4 billion from Q3 of 2019. In the individual app stores, Google Play downloads saw a 10% increase in growth year over year to 25 billion, while iOS grew 20% to almost 9 billion new downloads for Q3. Non-gaming apps accounted for 55% of all downloads for Google Play and 70% for iOS, underscoring how Covid-19 is changing more than just the way that we play.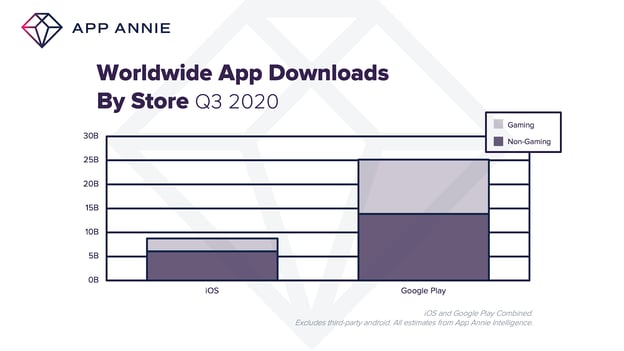 Along with record downloads comes record time spent interacting with those apps. Monthly time spent engaging with mobile apps grew 25% year over year in Q3 2020. The trend was not limited to the third quarter as consumers spent over 1.6 trillion hours in apps in the first six months of 2020. As we saw with downloads, consumers spent 15% more time in non-gaming apps in Q3 of 2020 than they did in Q3 of 2019.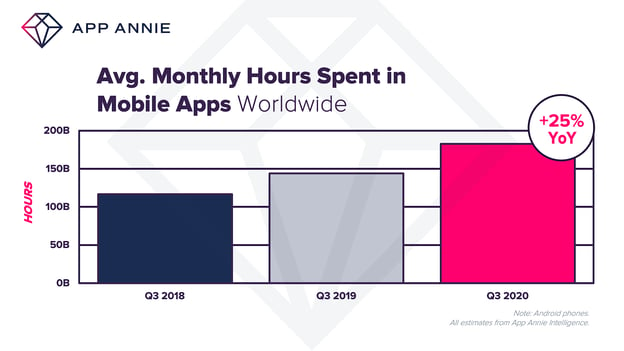 Spending on mobile apps has also surged. Consumers spent over $28 billion dollars on apps in Q3 of 2020. That represents the largest quarter ever with an increase of $5 billion from the same period last year.
COVID-19 has dramatically changed how we interact with the world around us, and apps have become a central part of those interactions. From gaming to shopping, to banking, to communicating and socializing, apps have become an integral part of our world. As the consumer landscape has shifted towards mobile-first, so have bad actors. Heightened abuse complaints to the Federal Bureau of Investigation's (FBI) Internet Crime Complaint Center (IC3), prompted the FBI to issue this public service announcement warning consumers about fake financial apps. As companies and consumers become more reliant on mobile apps and access, it is critical for brands to have a brand protection strategy.
For more information on how to stop fake apps, we've published a guide that you can download here.