Appdetex is excited to announce that we are participating in two industry events in June with leading brands and organizations.
Domain Name Abuse: Coping with COVID-19, ICANN, and GDPR
June 18th, 2020
On June 18th at 11 am PST we will be partnering with World IP Review and presenting a live webinar, "Domain Name Abuse: Coping with COVID-19, ICANN and GDPR."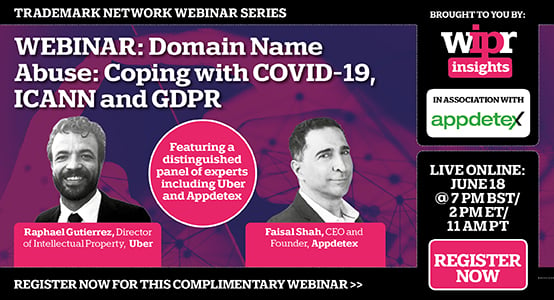 The webinar will focus on the current demands on intellectual property professionals and how best to cope with this changing landscape. Experts from Uber, Cole Valley Consulting and Appdetex will join our founder and CEO, Faisal Shah, to examine how the methods for identifying and abating brand-related domain abuse are radically shifting due to the impact of Covid-19, GDPR and ICANN's reactions.
The panel of speakers include:
Join the panel live as they discuss these trends and the steps some of the world's largest brands are taking to protect their customers and their IP.
To learn more about this complimentary webinar and to register, click here.
2020 New York Conference - Brands in Society: Their Influence and Responsibility
June 22-23, 2020
Appdetex is proud to be a platinum sponsor at INTA 2020's first-ever virtual conference. Taking place entirely online from June 22-23, 2020, this conference will be taking an in-depth look at the roles brands play in society. The virtual conference can be accessed anywhere and from any device.

With live Q&A discussions with speakers, networking breakout sessions, and more, this event focuses on the important roles sustainability, corporate social responsibility, and technology play in the world today.
Sessions Include:
Delivering Brand Message During a Social Revolution
Maintaining Brand Loyalty and Achieving Business Goals in Volatile Times
CSR and Brand Value: The Economic Impact of CSR Initiatives
Enforcement in the Court of Public Opinion
To learn more or to sign up for this inaugural virtual event, click here. We hope to see you at the Appdetex virtual booth!