App Annie just released their "State of Mobile in 2021" report, underscoring just how important mobile apps have become in our everyday lives. COVID-19 has dramatically changed how we connect and interact with the world around us, helping drive mobile adoption and growth at an unprecedented rate.
As we look to stay connected, consumers are logging more time on their phones than ever before. Individuals are spending an average of 4.2 hours every day on mobile, up 20% from the same period last year.
Average Hours spent on Mobile Per Day Per User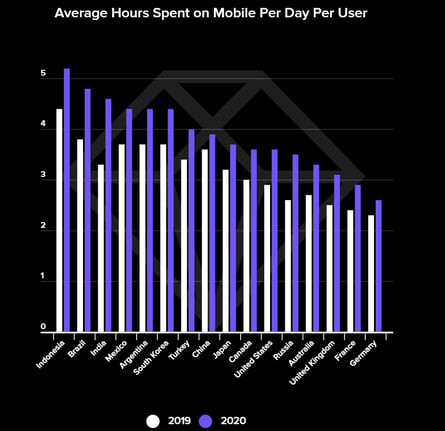 Individuals are using mobile apps to do even more, from shopping to financial transactions, social networking and entertainment to telehealth and education. In 2020, 218 billion new apps were downloaded, an increase of 7% from the same period in 2019. That breaks down to roughly 590 million apps downloaded every single day.
M-commerce exploded in 2020 as more and more people turned to their phones to do their shopping. Globally, time spent in shopping apps grew 45%, helping make 2020 the biggest mobile shopping year yet. In the US, consumers spent over $53.2 billion using mobile apps to shop from November 1-December 9th 2020 alone. This represents an increase of 55% from the same period in the previous year.
While Gen Z were early adopters of mobile apps, downloads and consistent usage of apps has surged across all demographics. Millenials and Baby Boomers adopted mobile apps in greater numbers than ever before. In the US Gen Z, Millenials and Gen X/Baby Boomers spent 16% 18% and 30% more time YoY, respectively, in their most-used apps.
Year-Over-Year Growth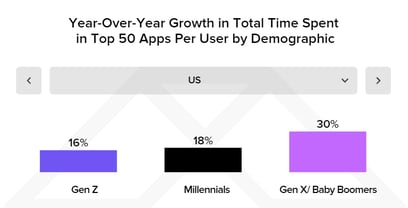 While app platforms employ precautions to reduce uploads of malicious apps, bad actors continue to find ways to take advantage of unsuspecting consumers, often focusing their efforts on unregulated third party app stores. The most nefarious of these malicious apps are unauthorized copies of official apps.
Created to mimic the look and feel of a trusted brand, these apps may contain malicious code or seek out unnecessary permissions and can be used to do everything from clone accounts, access sensitive information, or expose photos or details stored on the phone. They can also be used to illegally drive up ad revenue by inserting extra ads into your web browser.
One bad app in a mobile app store hiding behind your company's branded IP and trademarks can damage your company's reputation and impact your customers ability to have a genuine experience on your app as well as their safety and security. This, in turn, directly impacts your ability to maintain trusted relationships with your customers as well as affect your company's ability to advance its mobile commerce, or m-commerce, revenues, or goals.
For more information on how to plan an effective mobile app brand protection program, we've published an informative guide that you can download here.